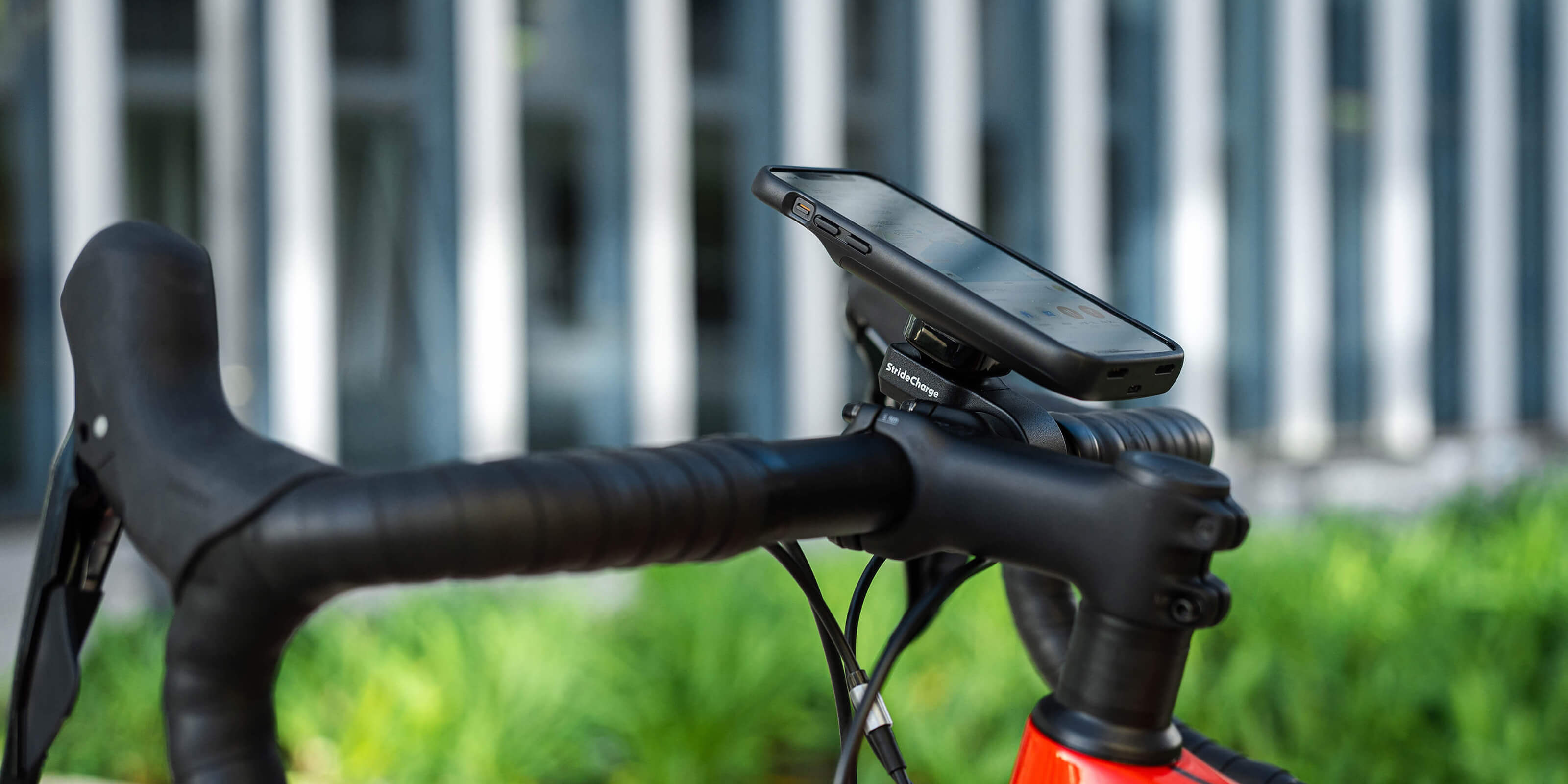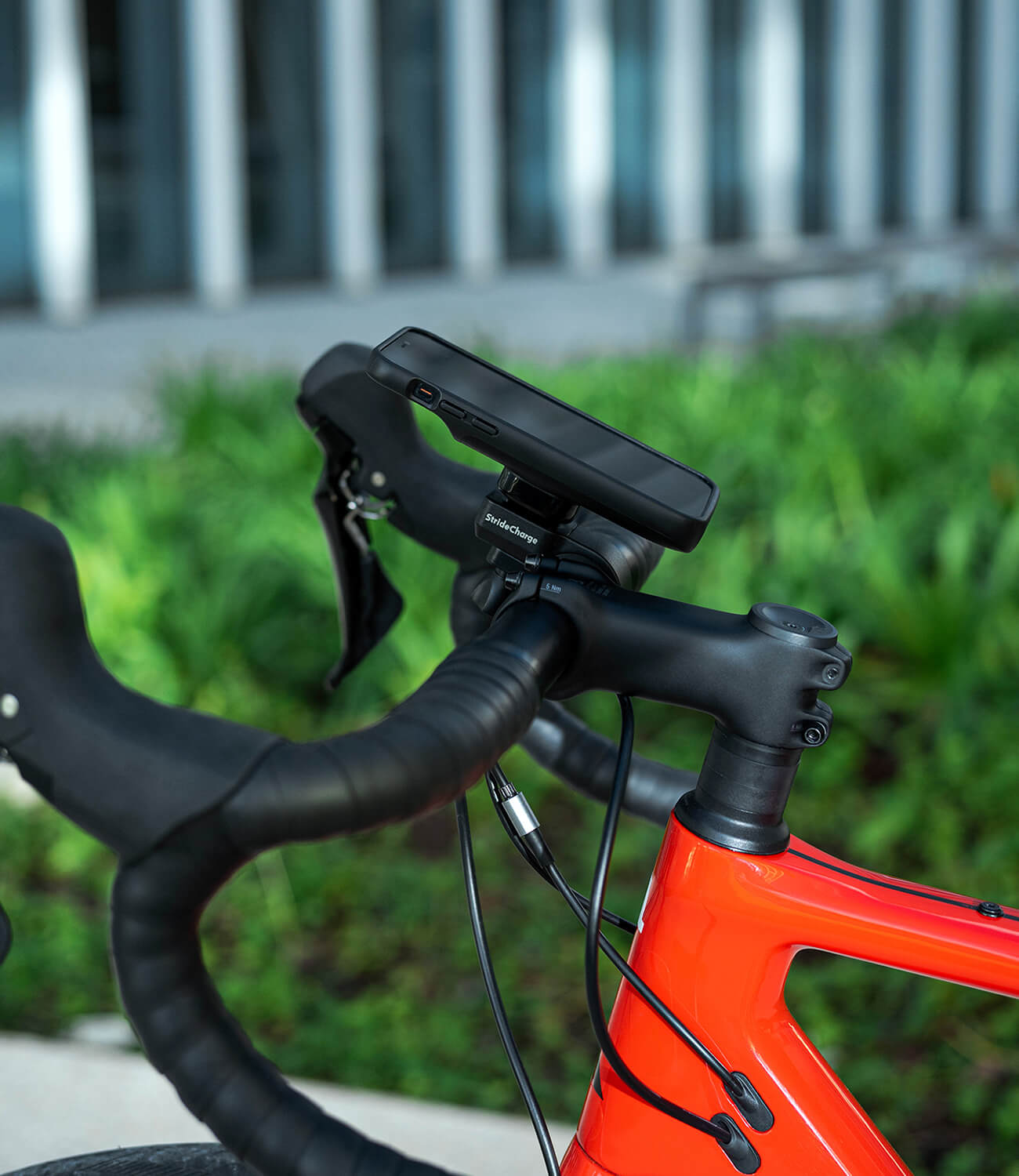 StrideCharge
How It Works
The StrideCharge Bundle comes with a Charge Case and a Handlebar Mount. The Charge Case is a wireless charging phone case that will protect your phone and wirelessly charge it anytime, anywhere. The Mount attaches securely and easily to your handlebars and requires no tools. The Charge Case locks into the Mount securely and disengages with ease.
Stay Charged On The Move!
The Case
A leap forward in wireless technology
High-quality construction and shock-absorbing materials, tested for maximum durabilty. StrideCharge cases will keep your phone safe and fully charged on your most extreme adventures.
Shop Now
Sleek design meets unparalleled functionality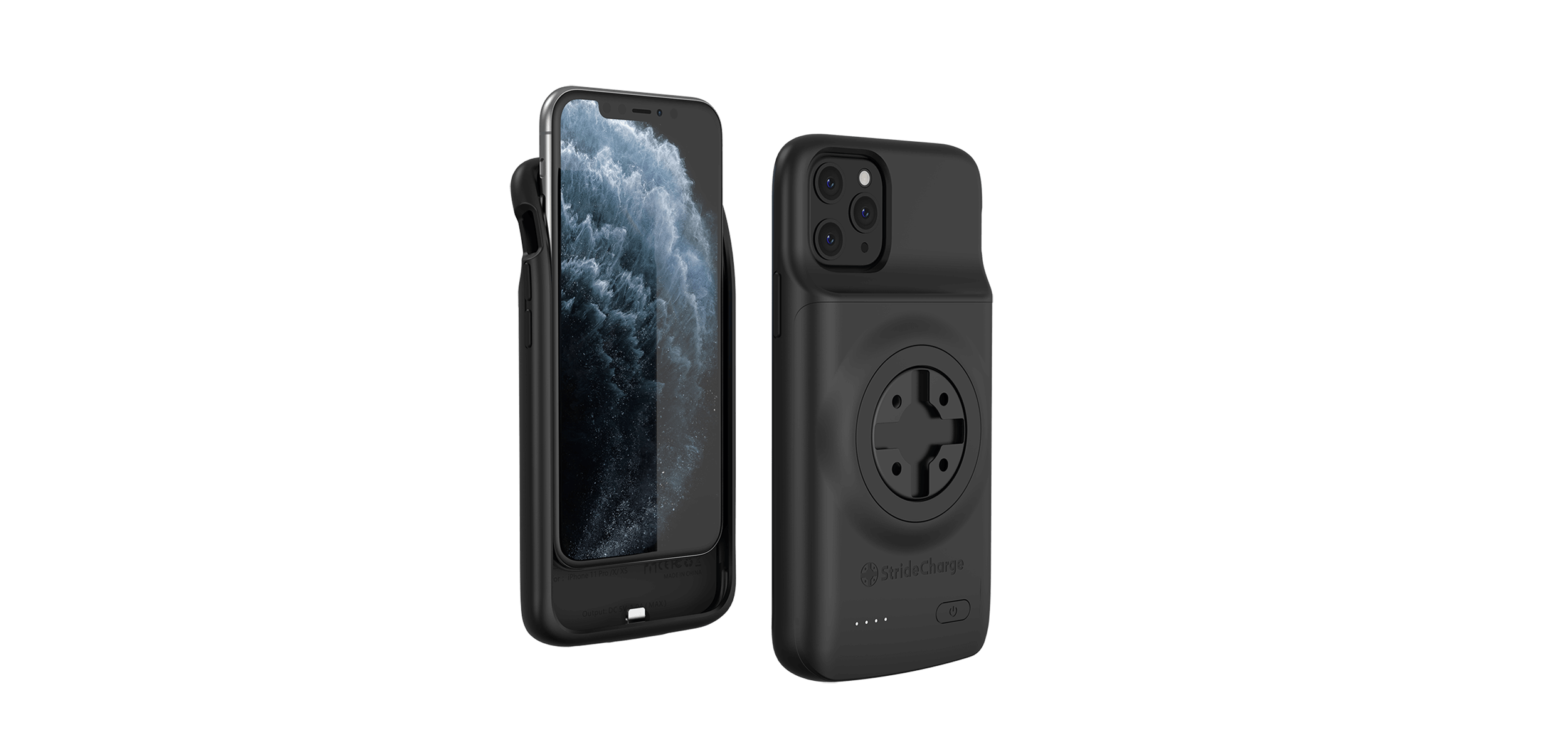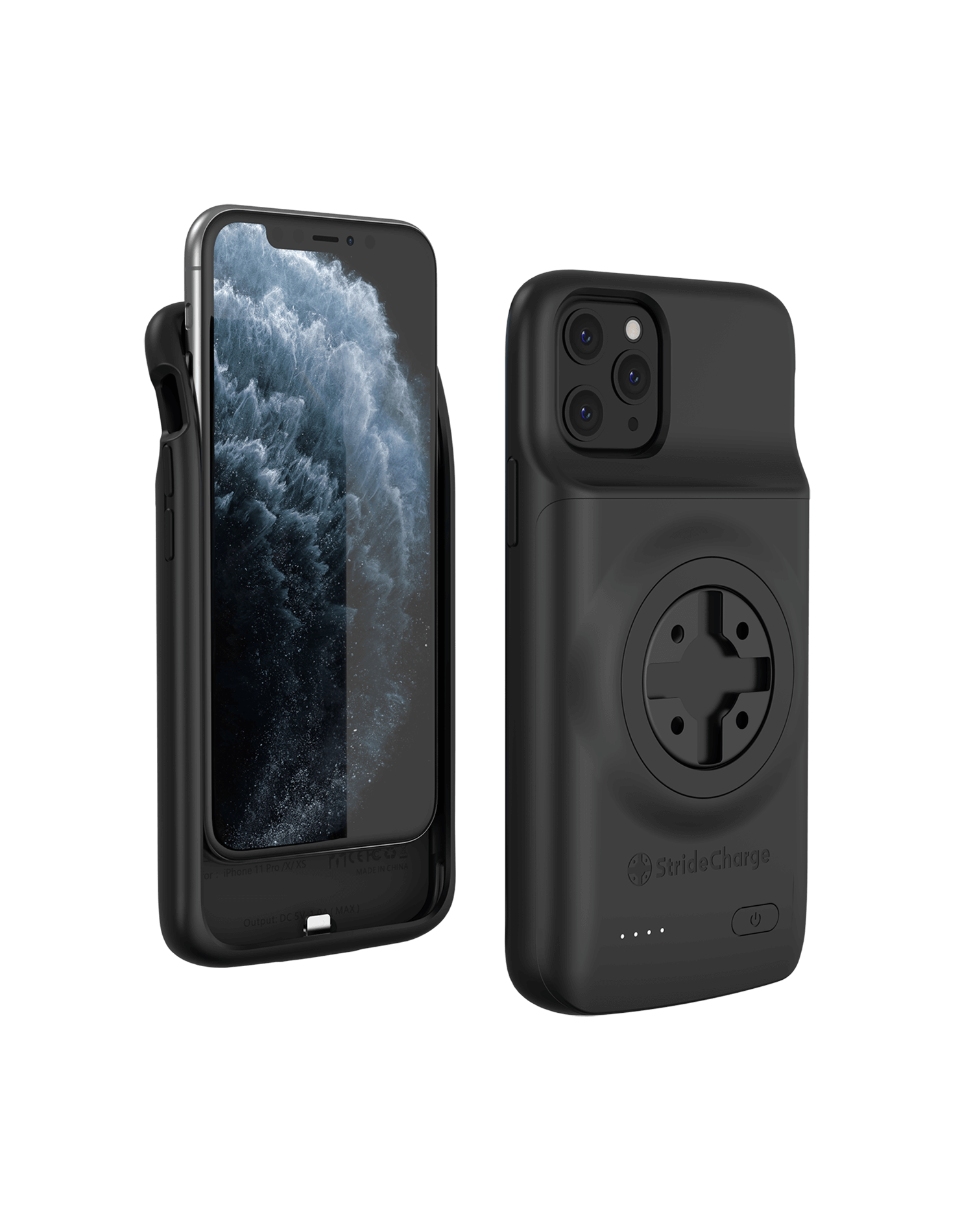 Sleek Design
Every StrideCharge product is designed to look as great as it functions.
Secure Mounting
Attach the Charge Case to the Mount and ride confidently knowing your phone is secure.
Wireless Charging
Conveniently charge your phone anywhere, anytime.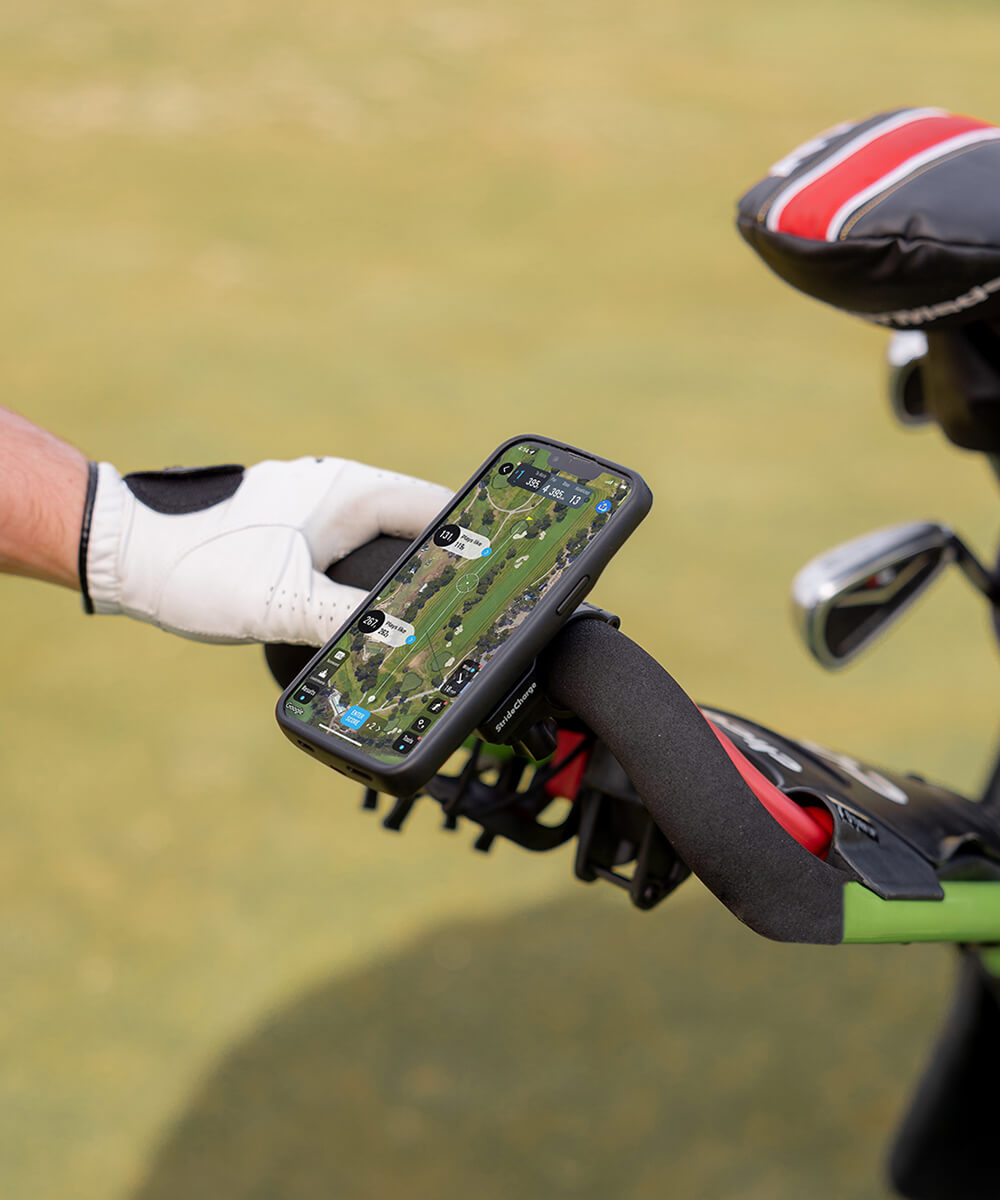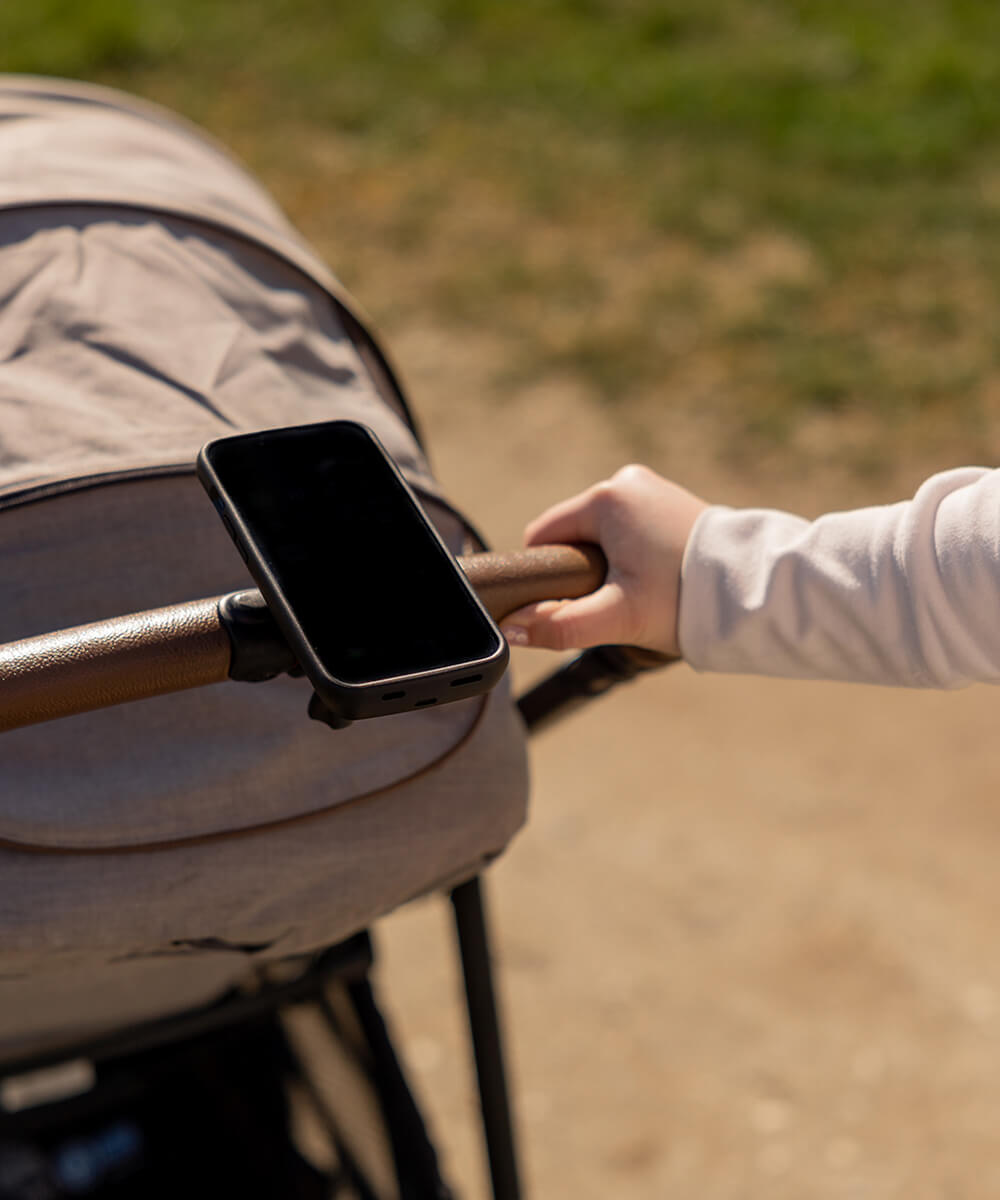 Perfect For Everyone
Our innovative technology is the ideal solution for anyone who wants to stay charged AND use their phone while away from an outlet.
StrideCharge is Ideal For:
•Cycling •Motorcycles •Golfing •Baby Strollers •Indoor Bike Trainers •Hiking •Camping •Everyday Errands
Wherever Your Busy Life Takes You!
Shop Now
Over 350 5 star reviews
Reviews
Read what Stride customers have to say
View all
Verified Purchase
Purchased this for my indoor training and it works perfectly. I connect my phone to my TV for my Zwift sessions and prior to Stride Charge, I would always finish my training with a nearly dead phone battery. With Stride Charge, I am now able to finish my Zwift session with a fully charged phone.
Verified Purchase
Been on lots of rides with my StrideCharge Mount and Case. It works very well. The mount really does keep my phone secure and the wireless charging feature is a blessing.
Verified Purchase
It works great on my bike rides and the case is amazing. The case is made extremely well and I use it as my everyday phone case.
Verified Purchase
I went on a 150km bike ride and was using the Strava app and listening to music the entire time. About 50km left to ride, my phone had 5% battery left. I just pressed the charge button on the back of the phone case and I finished my ride with a fully charged phone. Thank you Stridecharge!
Verified Purchase
Great product. I've used other phone cases which are really stiff and hard to take my phone out of. With the Stride case, the case completely protects my phone and it is really easy to slide my phone out of the case.
Verified Purchase
I use this all the time and it works great. Having the ability to charge my phone whenever is great and it doesn't matter if I am going on a long ride or just riding around the city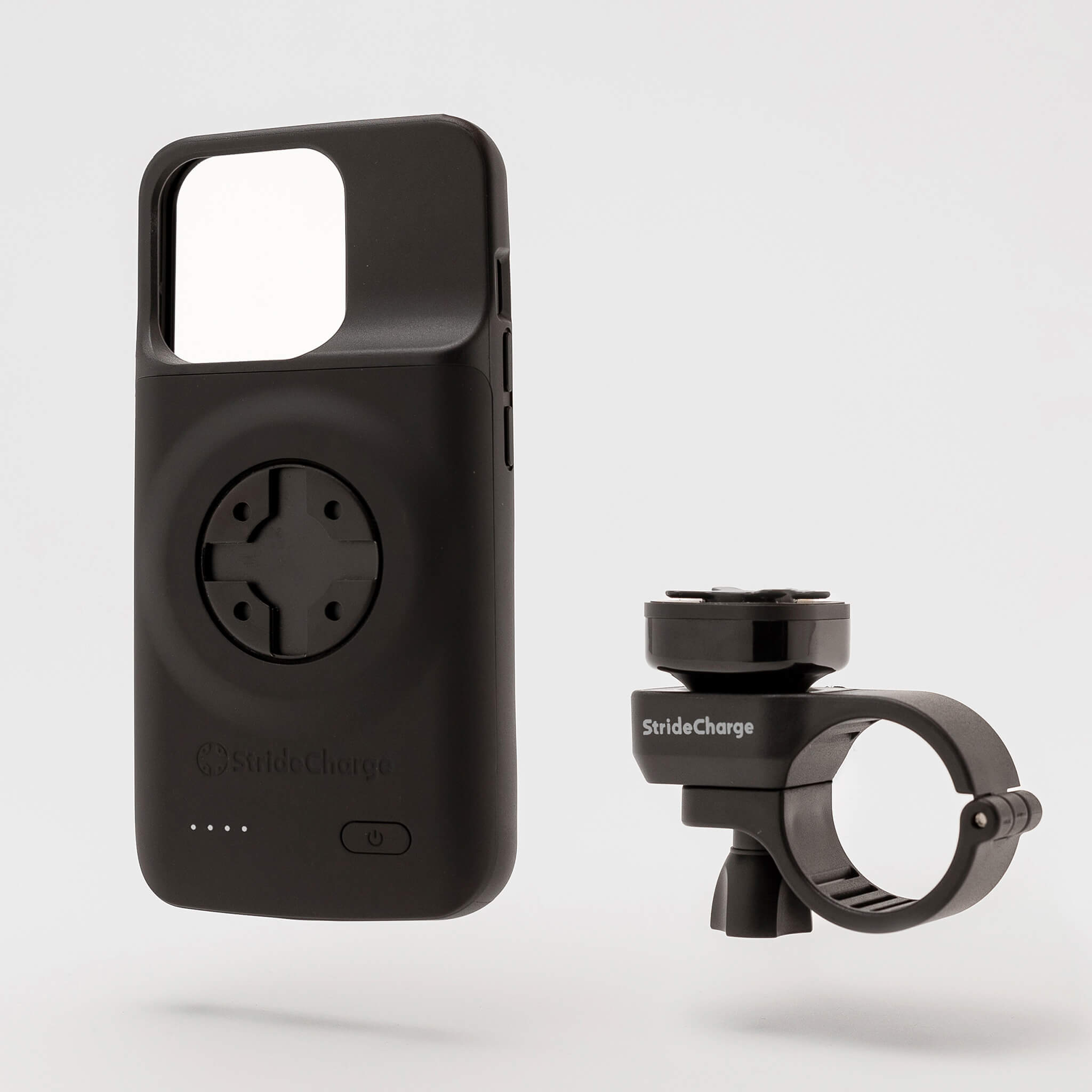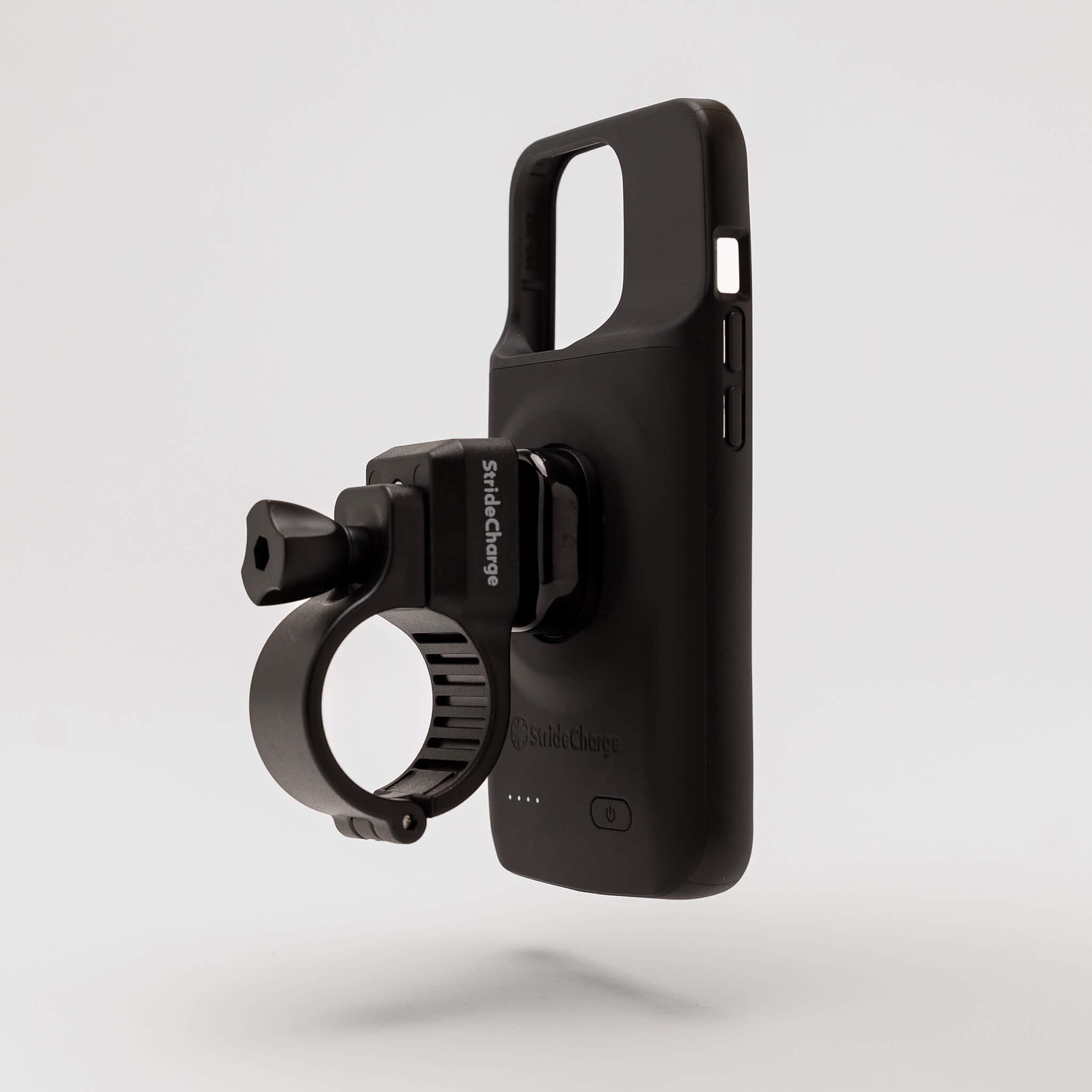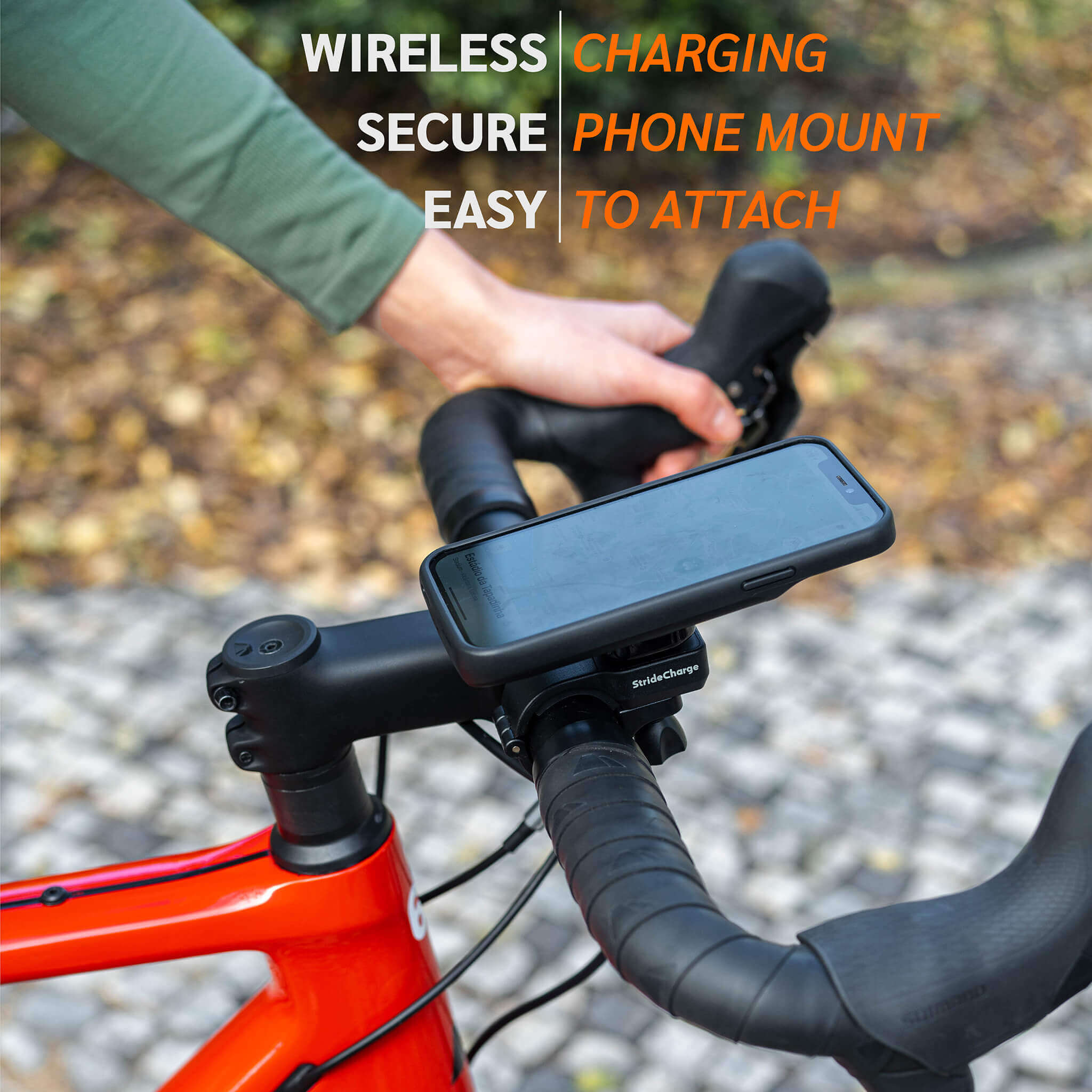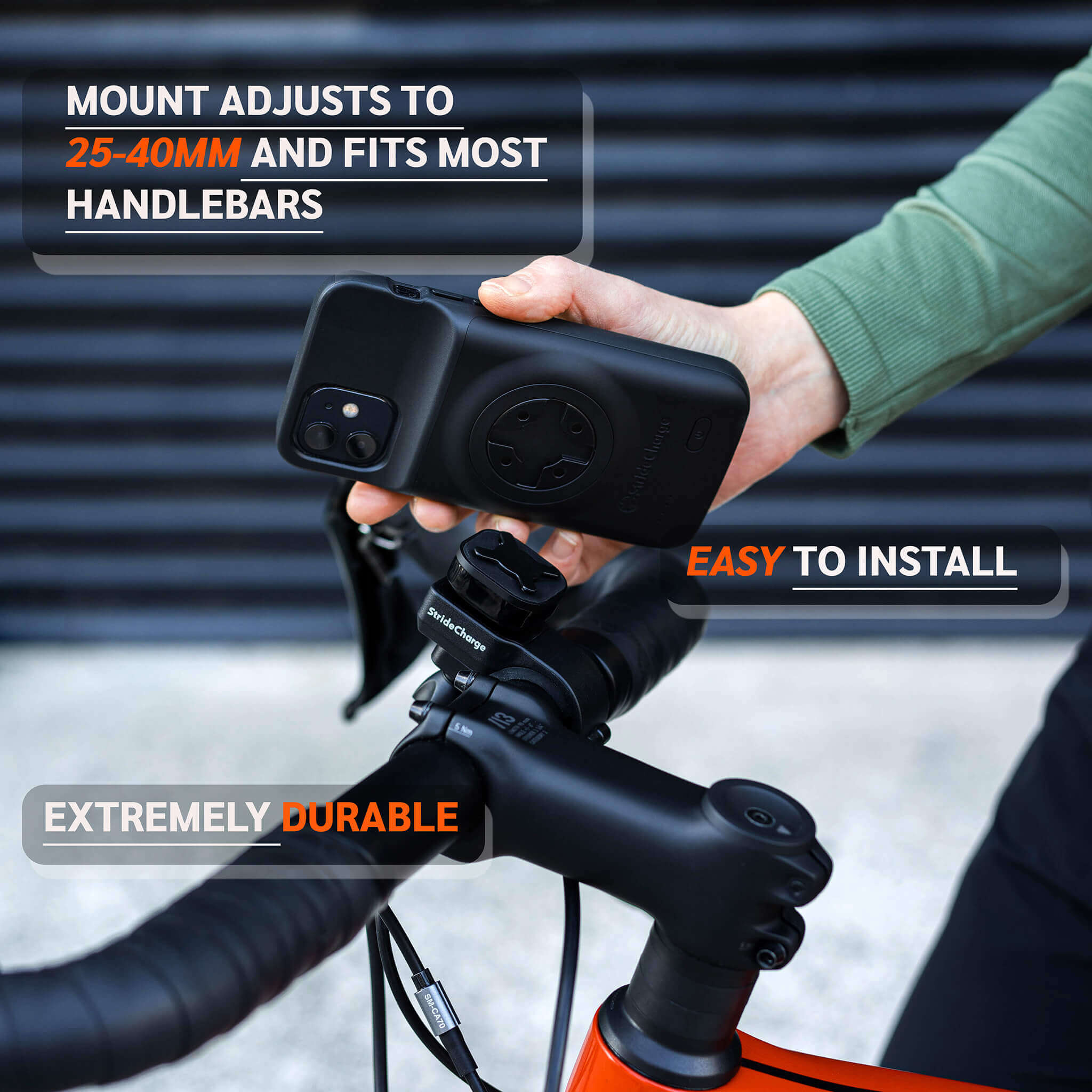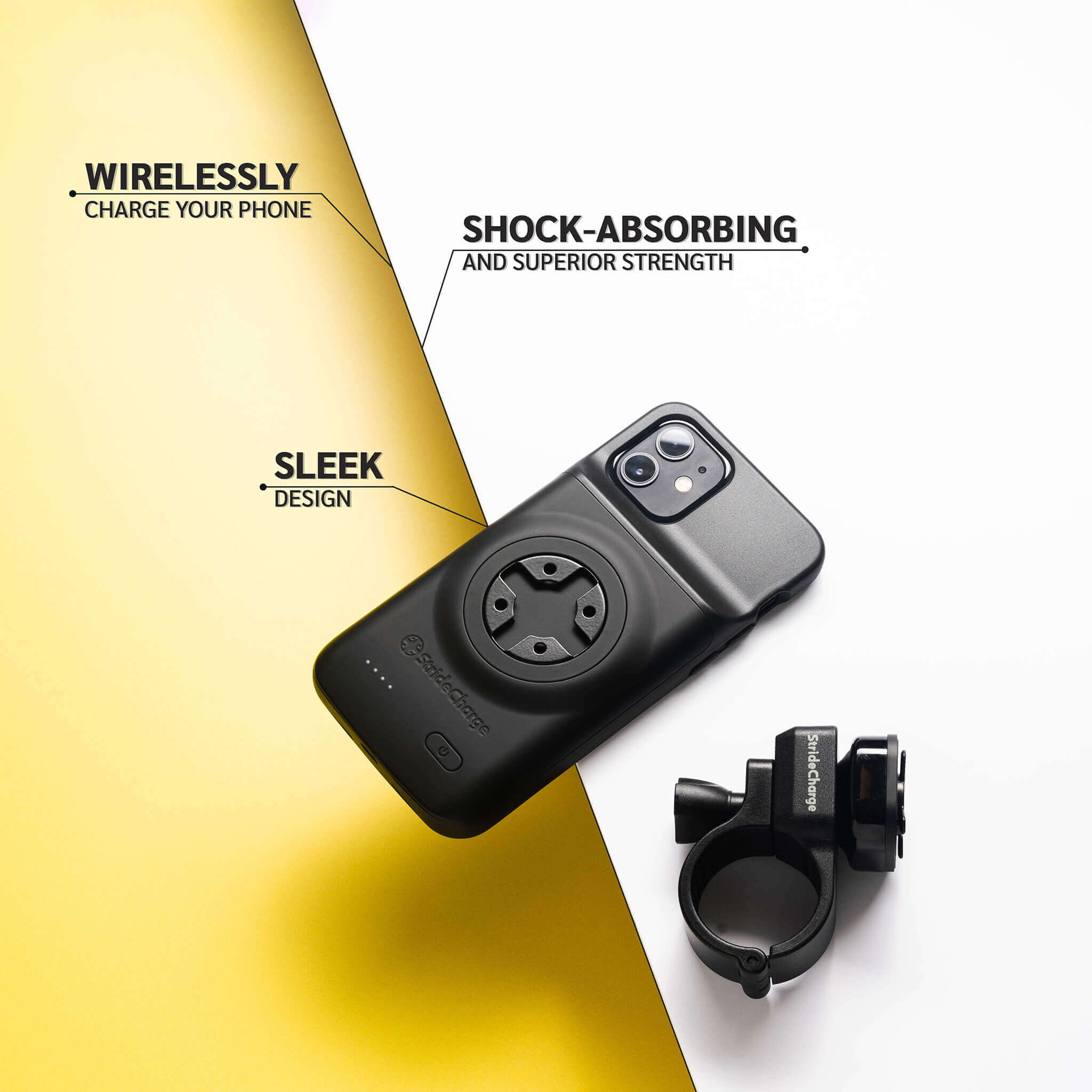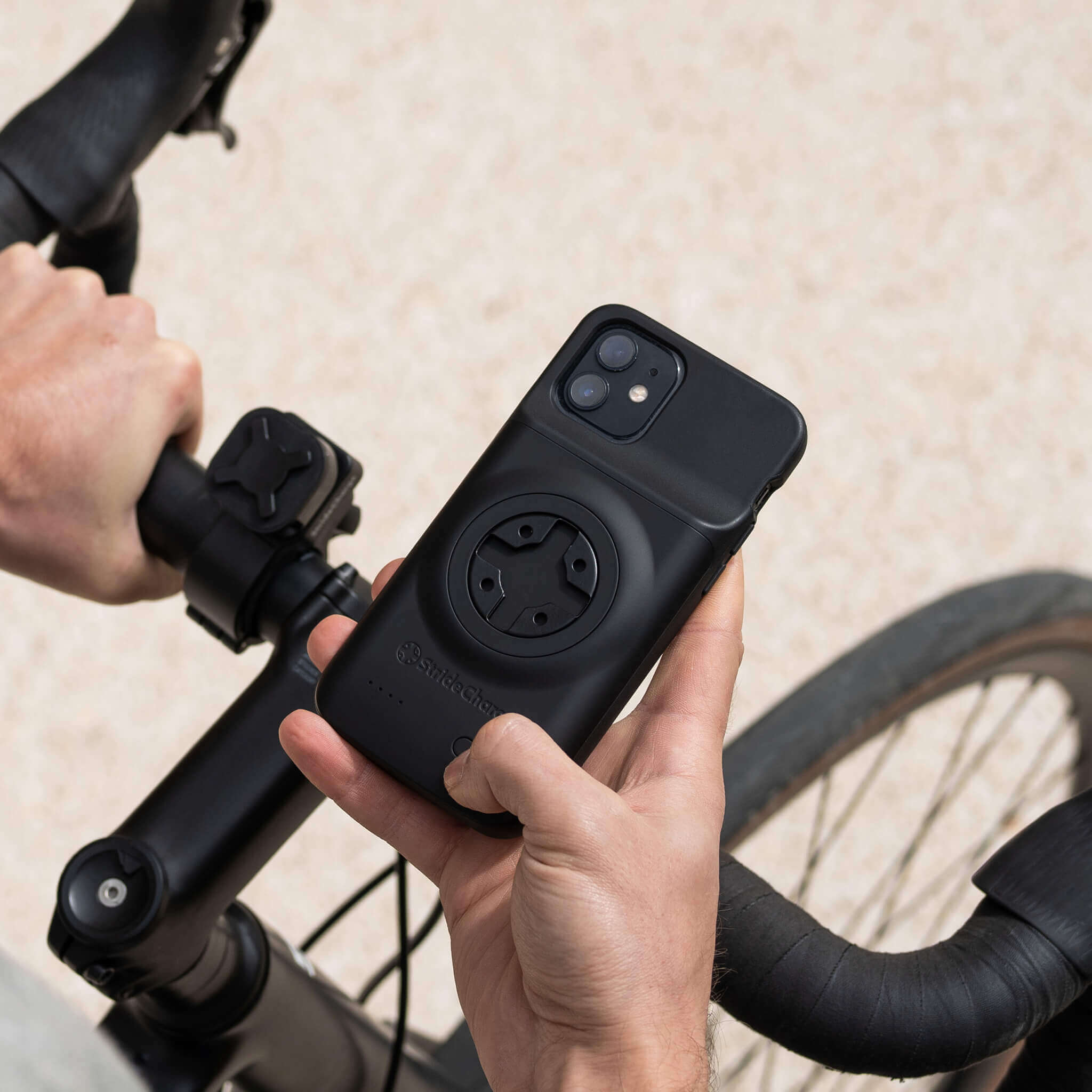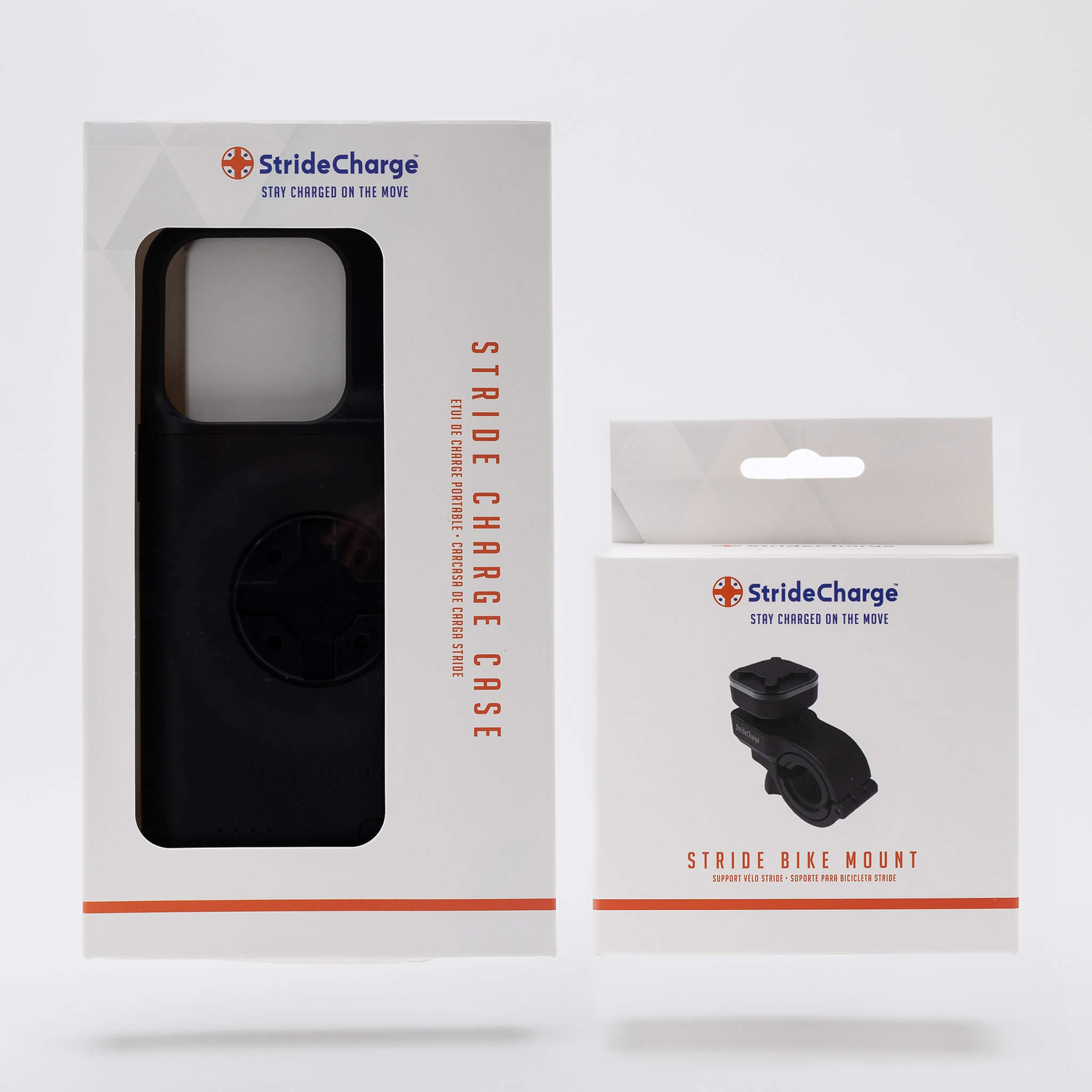 ---
Free worldwide shipping on all orders
The outcome is a Charging Case that's elegant, trendy, and exquisite, fitting perfectly onto your handlebars.

StrideCharge is one of the most versatile and practical phone case chargers on the market.

The StrideCharge not only does the job incredibly well, but its stylish, sleek design is a real head-turner.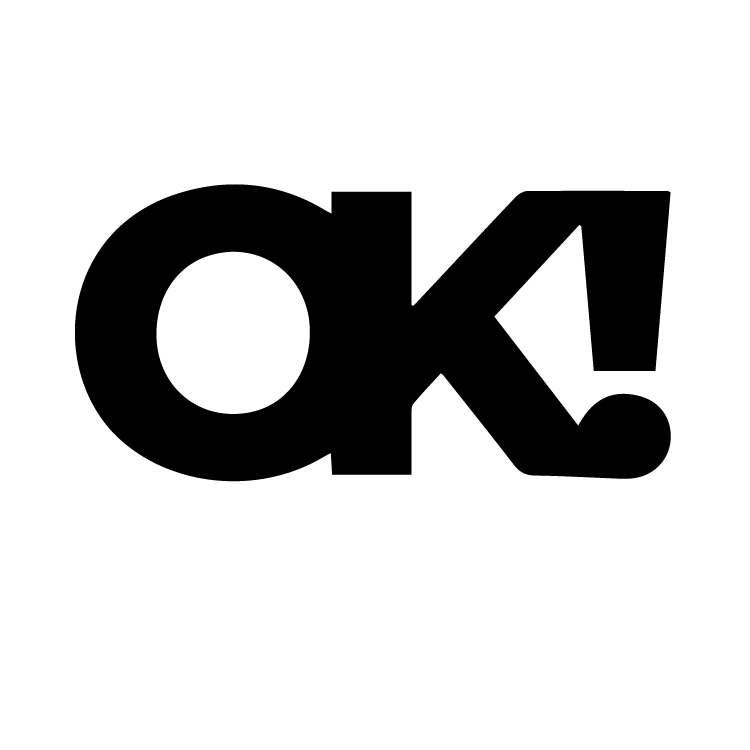 These strong materials are the secret to its ability to keep phones safe as riders tackle mountain paths or go over speed bumps.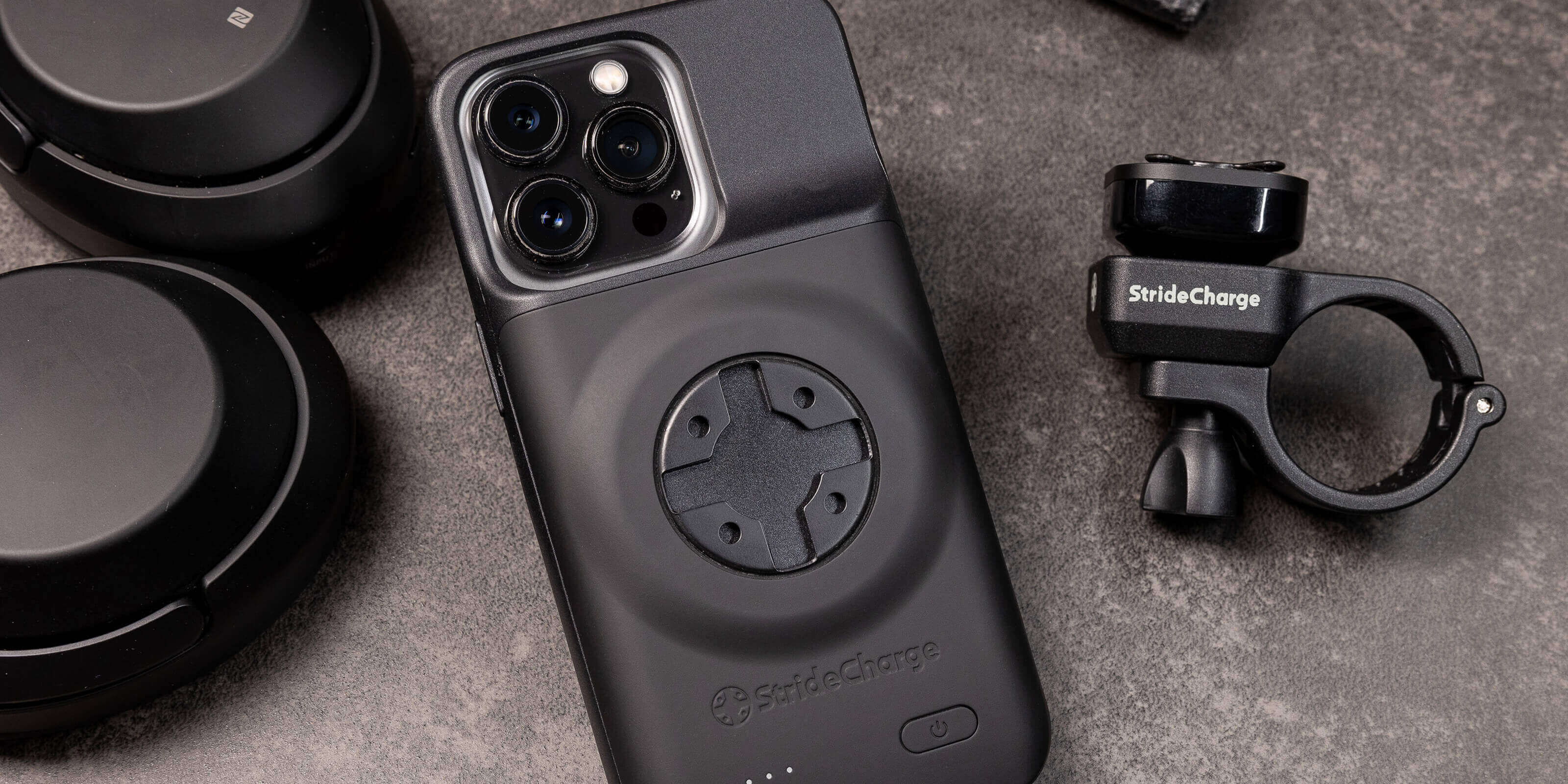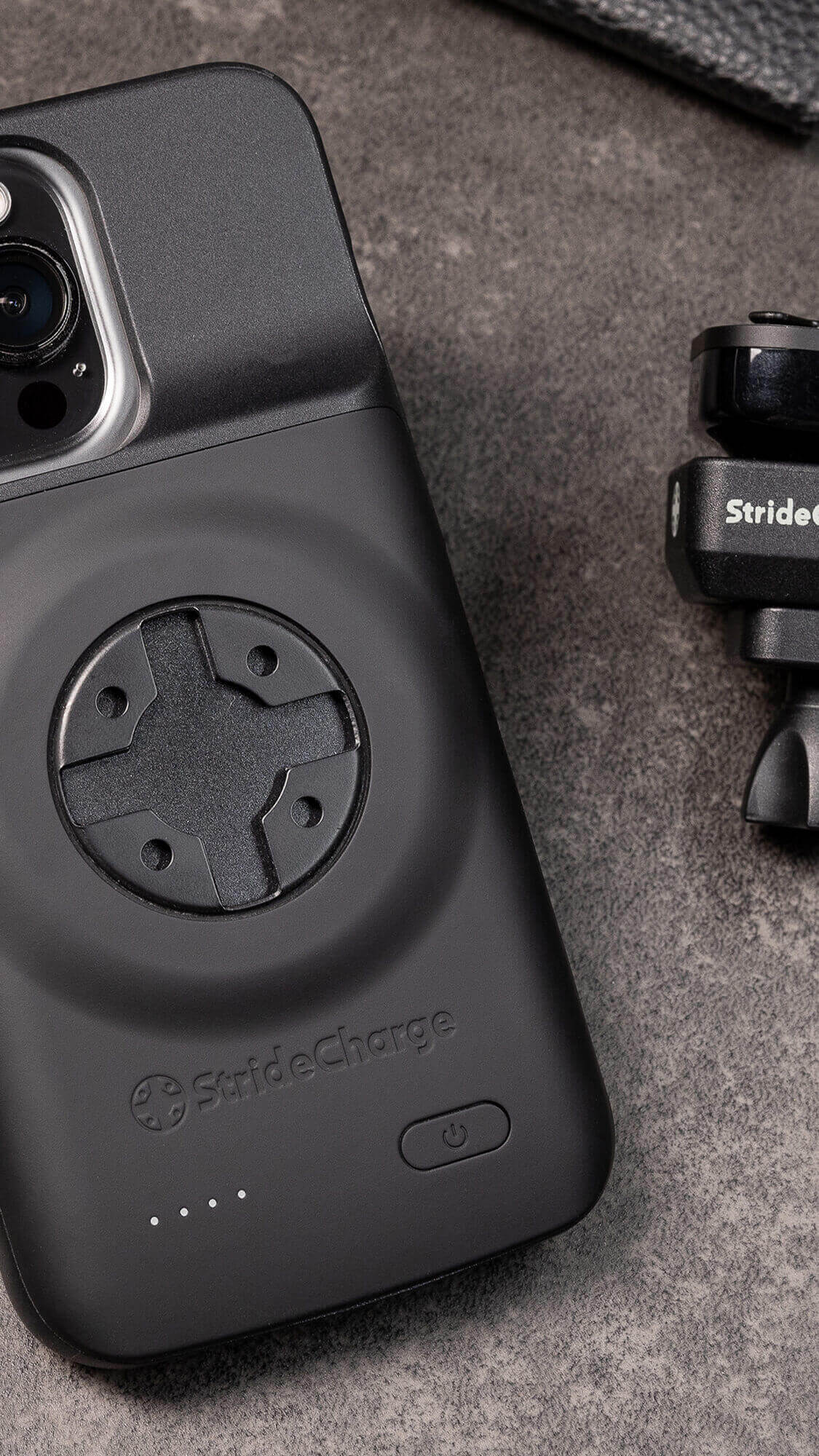 The future of wireless charging is here
Features
The StrideCharge difference
Every StrideCharge product is designed to look as great as it functions.
Handlebar Mount
Adjusts to 25-40 mm in diameter and fits most handlebars.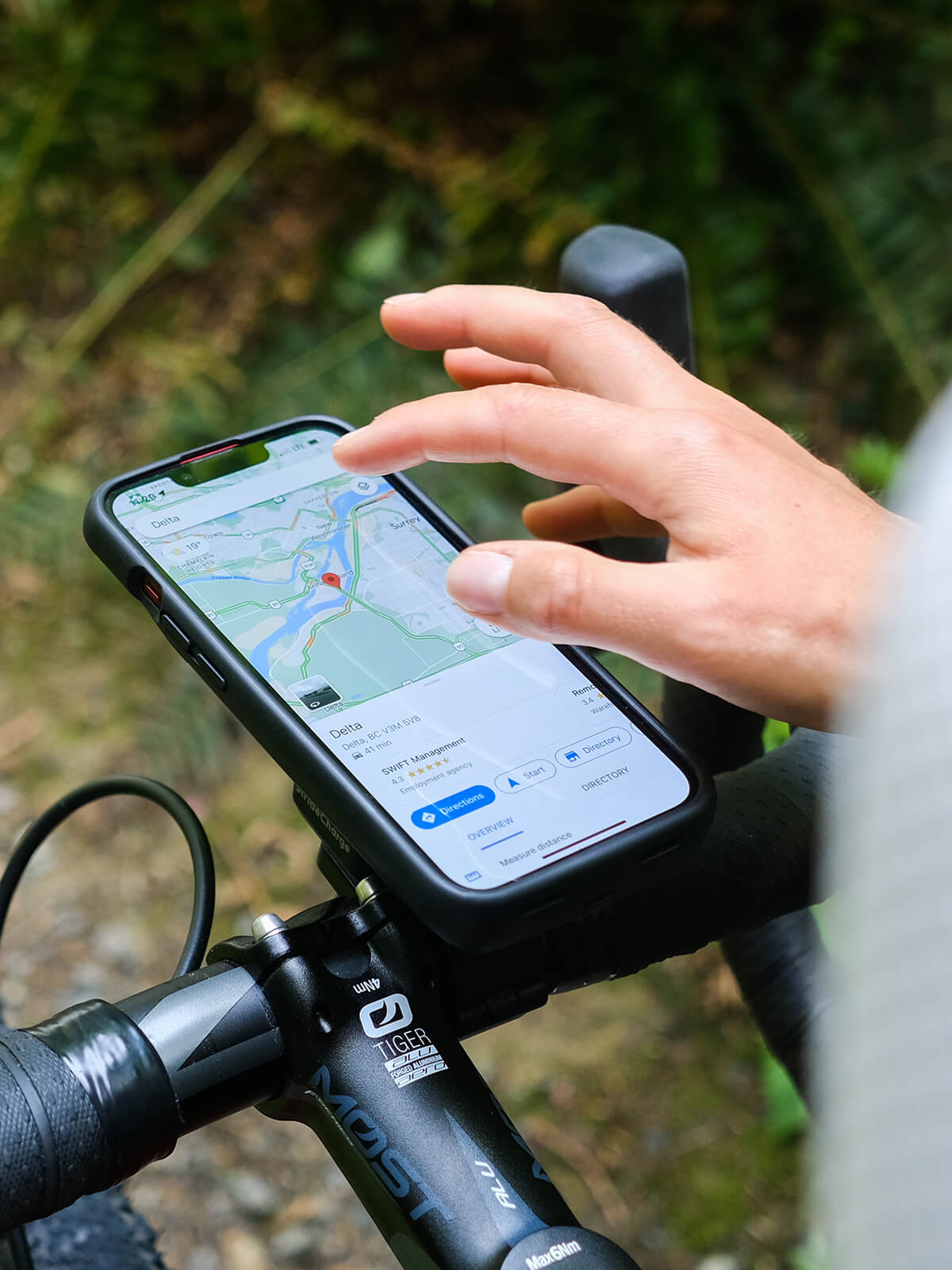 CHARGE AND USE YOUR PHONE ON THE TRAIL-- JUST 3 EASY STEPS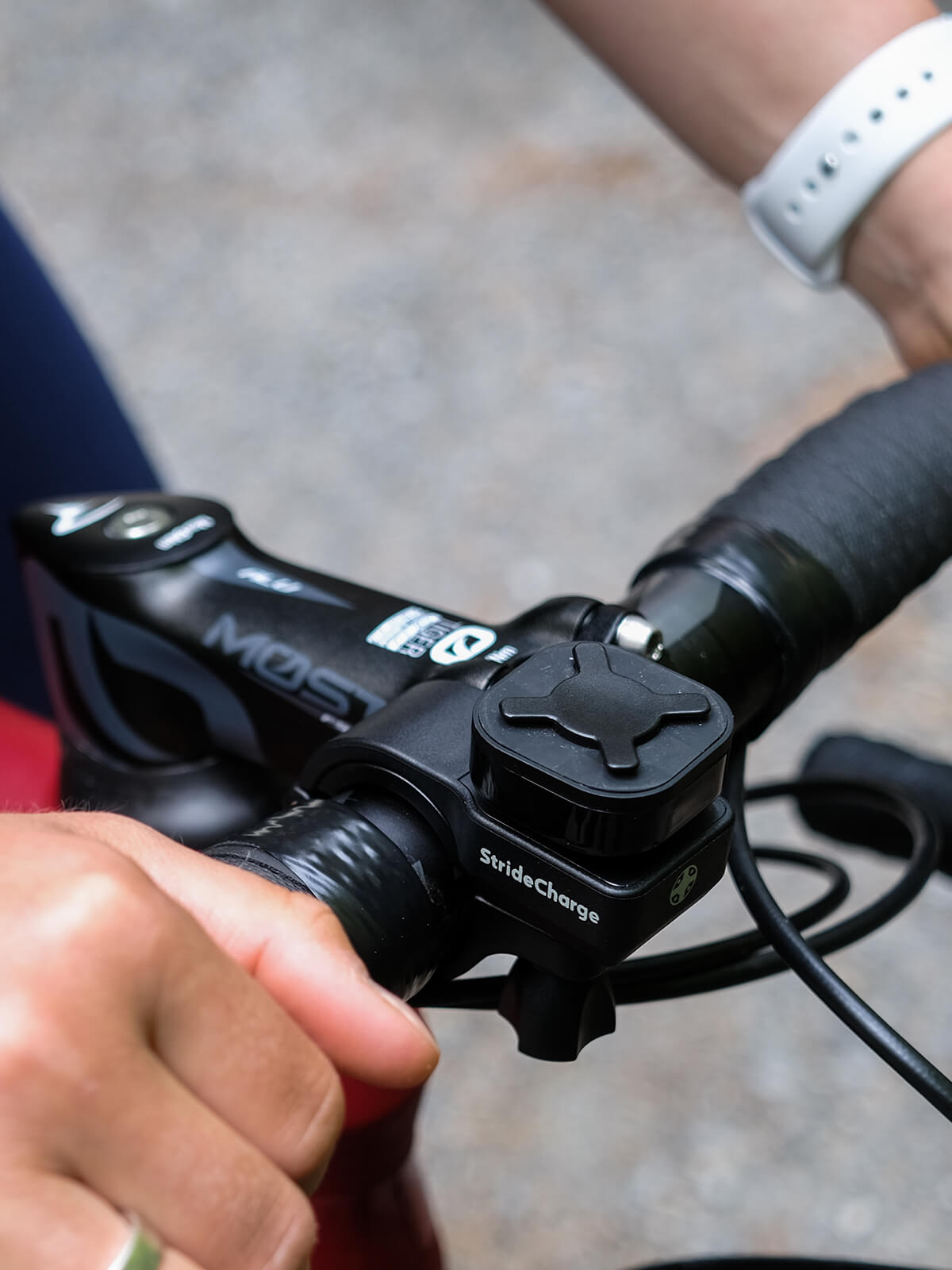 Step 1: Attach your durable, easy-to-install Mount to your handlebars. No tools required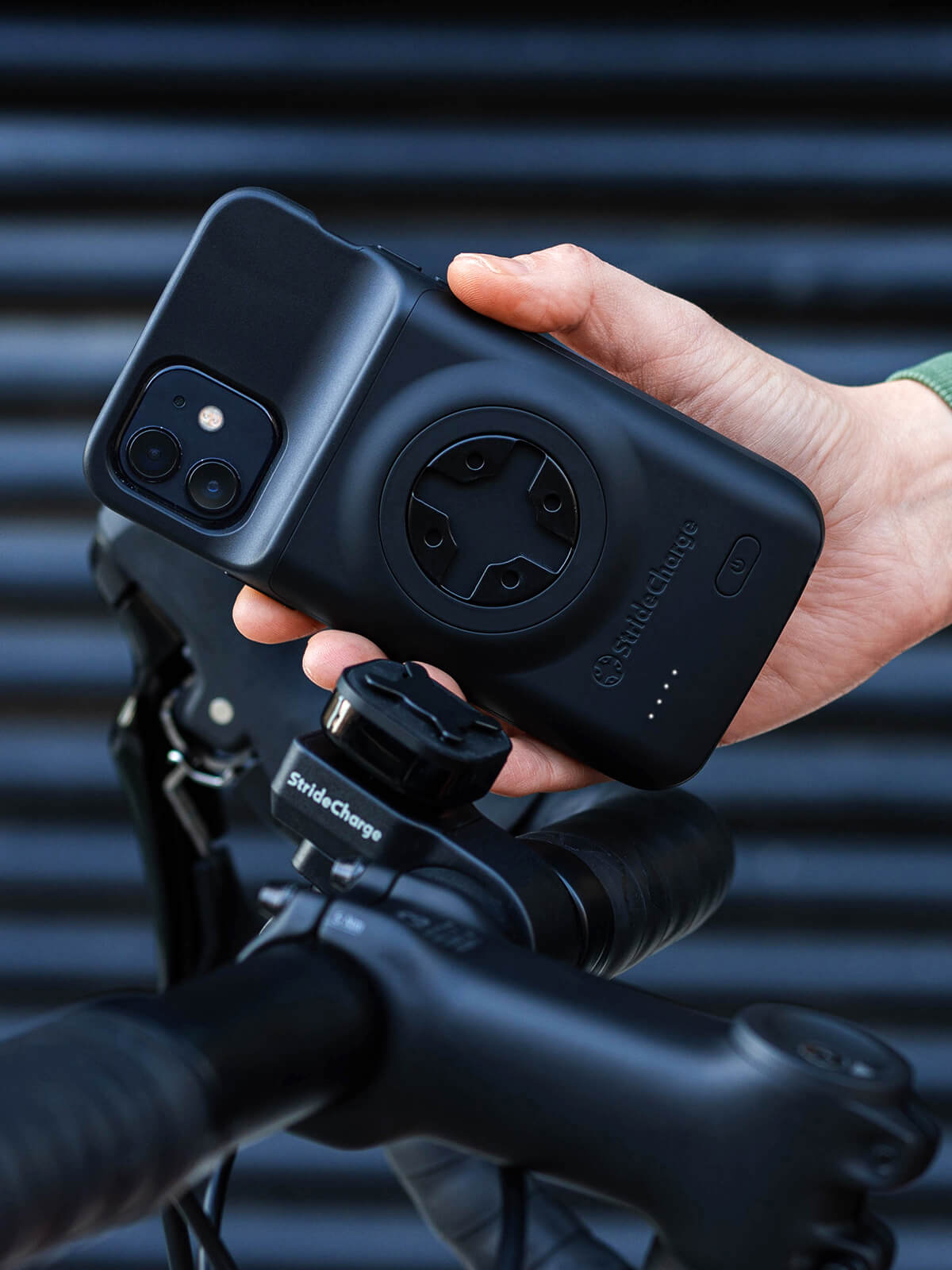 Step 2: Attach your Stride Charge Case to your Stride Handlebar Mount and turn to lock it into place with a gentle 'click'.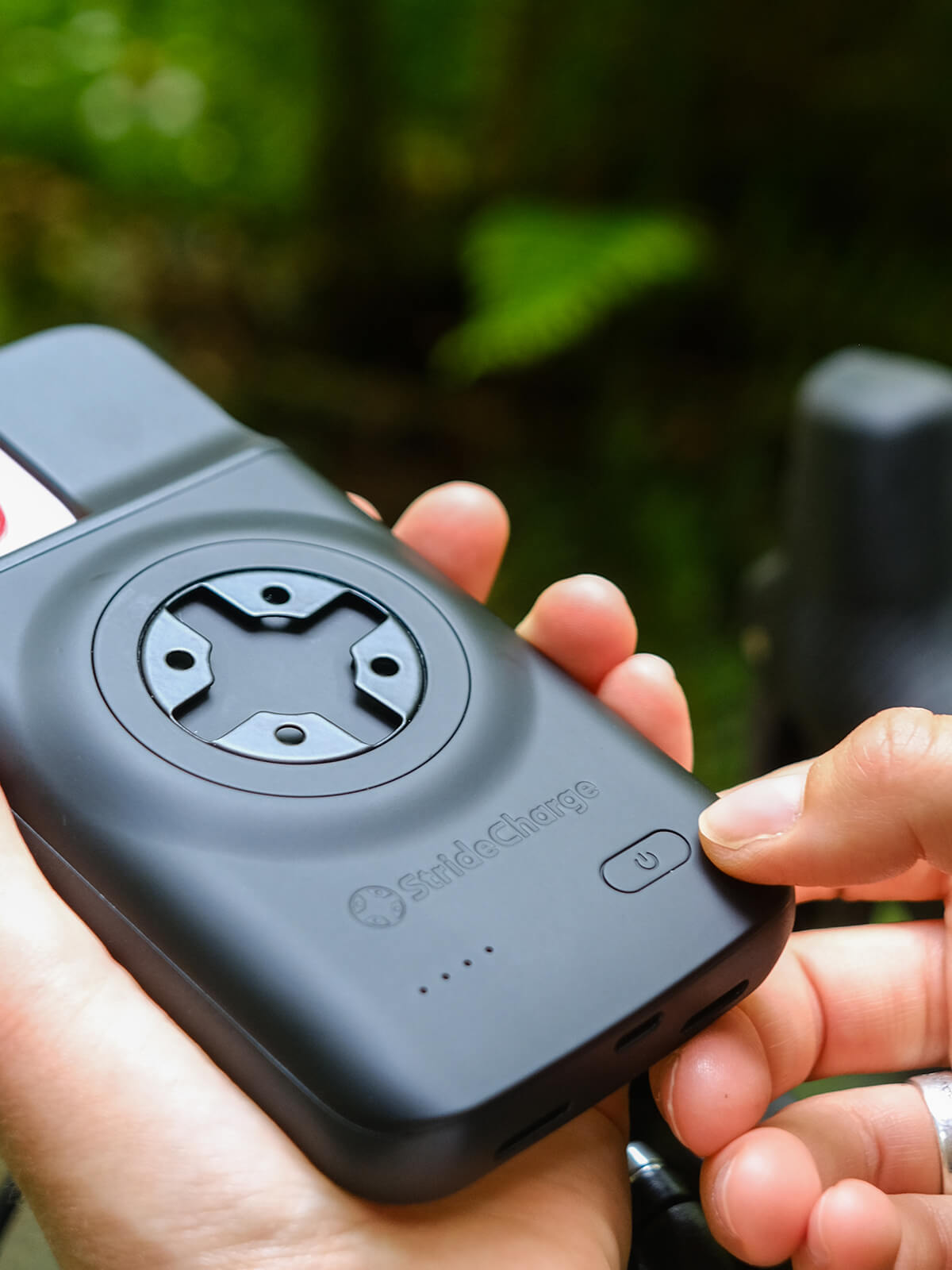 Step 3: Start charging your phone wirelessly with the push of a button. Enjoy your music or favorite apps while you ride.
From the Journal
View all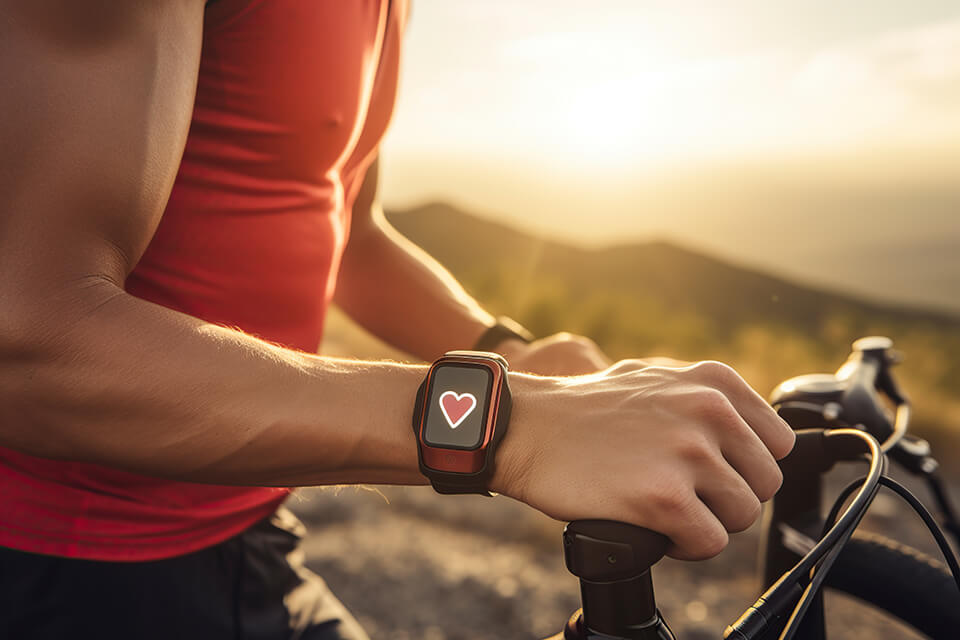 Discover the Health Benefits from Cycling
Have you ever considered the myriad of health benefits from cycling? Not only is it a fantastic way to explore the world, but it also provides countless physical and mental health advantages for pe...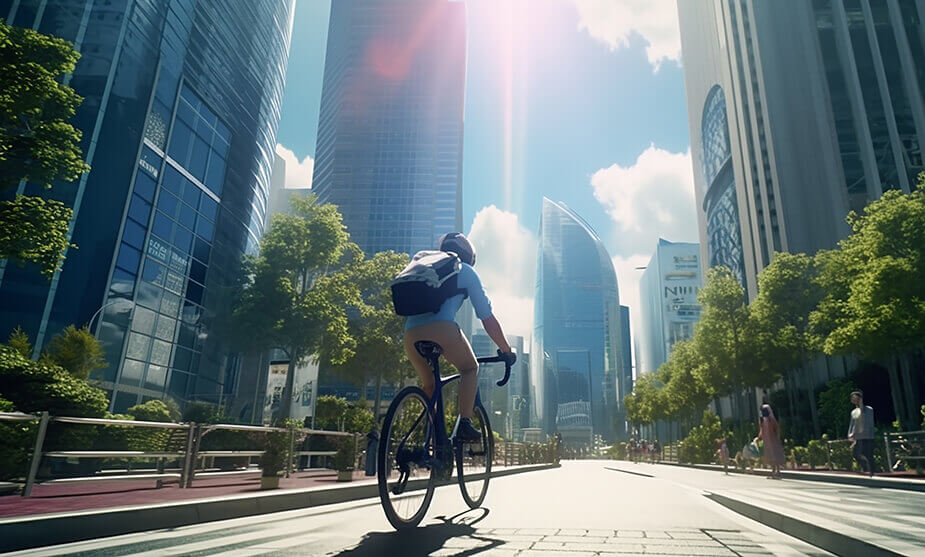 Essential Safety Tips for Cyclists
Cycling is not only an excellent way to enjoy the fresh air but also an eco-friendly mode of transportation. However, staying safe while navigating the streets is a top priority for cyclists. With ...
Have a question? We are here to help.
Check out some of the most common questions our customers asked. Click here to read all our FAQs.
Our customer support is available 7 days a week: 8am-8:30pm.
Average answer time: Same day
How does StrideCharge work?

StrideCharge is a patent-pending technology that improves existing wireless charging capabilities by allowing you to mount your phone to your bike and continue to use it while it charges wirelessly.
How often should I charge my Stride Charge Case?

It really depends on how often you use it-- but, keeping your case charged and ready to use is easy, just use your existing iPhone charging cable to charge your case.
What is the case made of?

Your Stride Charge Case is fabricated from high-quality, non-toxic ABS and TPU. Both are known for their high impact strength and shock-absorbing.
How long will it keep my phone charged while in use?

Your StrideCharge iPhone wireless charging case will keep your phone charged-- while you're using it. The wireless charging case has 4800 mAh capacity which will fully recharge you iPhone from empty.
You can contact us through our contact page! We will be happy to assist you.
Our customer support is available 7 days a week: 8am-8:30pm.
Average answer time: Same day